A Real Live Wire
Tandy and Todd attempt to solve an out-of-the-world power problem.

Season: 02 Episode: 06
Total Episode Count: 19
Prod. no.: 2AYB06
First Aired: November 8, 2015

Guest Starring: Boris Kodjoe
Featuring: Tandy Miller, Todd Rodriguez
Also Appearing: Carol Pilbasian, Melissa Chartres, Erica Dundee, Gail Klosterman, Phil Miller
Musical Numbers: The Heat is Off

Director: Jason Woliner

Writers
:
Erica Rivinoja
Plot
:
Tandy finds that the generator has broken and tries to fix it, but finds that the gasoline has now expired. With supplies running low, and things expiring, Phil suggests that they find somewhere else to live then Malibu. The gang suggests not to, leading him to go on strike, as all they do is take it easy. Due to him on strike, Tandy attempts to take care of the power crisis by putting up solar panels. Todd joins him on the project. Noticing that they need a junction box, the two head to get one.
When they return, they discover a live sparking wire dangerously flying around. The two attempt to solve the problem, but fail. Reluctant to do so, Tandy asks Phil for help, only to have Phil mercilessly beat him after believing that his recent attitude change is because of Carol choosing to be with him.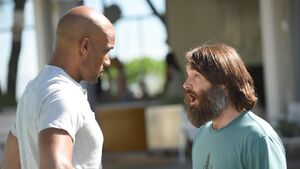 The gang takes Tandy's side and attempts to cooperate with him for some sort of punishment. Disagreeing with the group, Phil announces he will be leaving Malibu. After turning off the live sparking wire, Phil gets ready to go out on his own. He asks Carol to come with him, while insulting Tandy, who acts like a child. However, he is soon interrupted by Erica, who reveals she is pregnant with his child.
Meanwhile, Carol is disappointed by the fact that no one in the group is willing to have a child. She attempts to convince the ladies to have one, but disagree with various reasons, that is until Phil breaks out in rage.

Community content is available under
CC-BY-SA
unless otherwise noted.