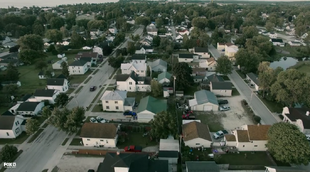 Akron, Ohio is the fifth-largest city in the U.S. state of Ohio and is the county seat of Summit County and is the 119th largest city in the United States. 
In "Hair of the Dog", Todd gets an epiphany to go to Akron, Ohio, the hometown of Melissa Chartres with her and Tandy to investigate her recent mental state. While on the road, Melissa tries to emotionally hurt Phil as he tries to ignore her. When they arrive, they discover she gave them a fake address and in the morning, she ends up missing. When they go on the road, they spot an Akron Home Associates billboard with her on it. They go to the location and spot her address on a magazine. When they arrive at her house, they spot her safely in her bed.
In the morning, Todd becomes upset as he learns things that he never knew about Melissa. Tandy suggests things will be okay, but Melissa comes down wearing her former work blazer and prepares herself breakfast. She then takes a pill from a pill box. Todd questions what it is but Melissa is unsure. Tandy, Todd, and Melissa drive back to San Jose in question of what the pill is.