Designated Survivors
Tandy wakes up to a shocking discovery.

Season: 04 Episode: 15
Total Episode Count: 64
Prod. no.: 4AYB15
First Aired: April 15, 2018

Guest Starring: Jason Sudeikis
Featuring: Tandy Miller, Mike Miller, Todd Rodriguez
Also Appearing: Carol Pilbasian, Melissa Chartres, Erica Dundee, Gail Klosterman, Bezequille & Mike Miller, Dawn
Musical Numbers: Falling Slowly, Ain't Nothing Gonna Hold Me Down, Electric Avenue, When the Saints Go Marching, Reunited

Director: Payman Benz

Writers
:
Edward Voccola
Plot
: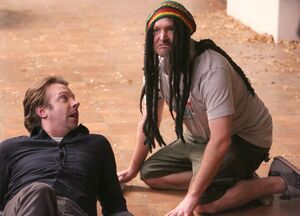 Tandy wakes up to the discovery that Mike is alive by following a trail of his shaved hair and paper notes, Tandy hears a familiar tune and travels to the Masturbatorium, where the brothers reunite with another rendition of "Falling Slowly". After a series of pranks on Tandy and the group, Mike explains that he did not have the virus, but attributes his illness from his weakened immune system from being in space. Mike says that he returned to Malibu, but found the mansion deserted. In addition, a flashback to Tucson reveals that the note left for Mike fell off of his door. In the present, Tandy and Carol introduce Mike to his nieces and Mike reunites Tandy with his sports ball collection, while showing him his thermal imaging machine in his truck.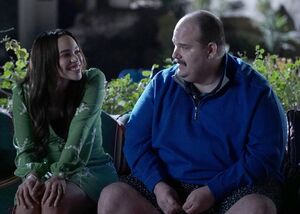 Meanwhile, Todd is thrown into a spiral with Mike's return, believing that Mike may possibly take the place as Erica's sperm donor as Mike is an "alpha dog" and Todd is a "beta". Todd confronts Mike about his intentions with Erica and Mike denies anything happening and Todd forces Tandy to make a choice between him and Mike. Mike discovers his truck vandalized and talks to Todd and makes him appreciate what he has and how he shouldn't take it for granted. Todd apologizes to Erica about how he hasn't been himself and Erica reveals to Todd that she is pregnant. She explains how he got off track and they admit how they are looking forward to going through with the pregnancy and reunite with a hug.
At the end of the episode, Tandy goes to take care of the twins leaving Mike to go to his truck to discover a large blob on his thermal imaging machine.