La Abuela
Carol forces Phil to baby-proof their new residence.

Season: 04 Episode: 05
Total Episode Count: 54
Prod. no.: 4AYB05
First Aired: November 5, 2017

Guest Starring: Alma Martinez, Keith L. Williams, Frank Gallegos, Jack Guzman, Omar Leyva
Featuring: Carol Pilbasian, Phil Miller
Also Appearing: Melissa Chartres, Todd Rodriguez, Erica Dundee, Gail Klosterman, Jasper, Dawn, La Abuela, Victor, Hector, Panchito
Director: David Noel

Writers
:
Kira Kalush
Plot
: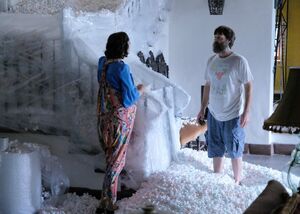 In 2017, an infamous cartel leader, La Abuela, has her house raided with gunshots, where all of the bodyguards are killed, with the final one being killed by her own self. La Abuela questions as to why a rival cartel raided her home, she forces Victor, a member of her cartel, to prove he isn't incompetent by solving a Rubik's cube. He fails to do so in ten seconds and is killed by La Abuela and has the body cleaned up by Hector and Panchito. Hector worries about becoming La Abuela's next victim and prepares a bomb. At La Abuela's birthday party, Hector brings a piñata that is believed to contain the bomb. Panchito is forced to swing at the piñata and purposely fails to hit it, where the police ambush the mansion, leading to La Abuela, Hector, and Panchito escape to a nearby room.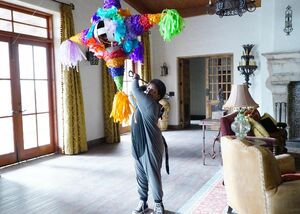 As the gang settles into La Abuela's old mansion in present-day, Carol forces Phil to help her baby-proof their new residence with bubble-wrap. She notes that the large staircase is a hazard and has Phil cover it with packing peanuts and more bubble-wrap. He becomes annoyed with Carol later on, because he can't work on the Rubik's cube. As Jasper discover the piñata in a shed, Phil teaches him how to break the piñata, but is caught by Carol in goofing off again. He questions why she keeps worrying about the house, and she reveals that she is worried about the virus affecting their baby.
Meanwhile, Melissa worries about Todd's health, after he suffers a heart attack. She forces him to sit in a wheelchair, eat healthy, and wear a helmet. When he attempts to "pop and lock" in his wheelchair, Todd objects to being treated like this. Elsewhere, Erica can't get Dawn to stop crying. In an attempt to stop her, Gail and Erica take her for a car ride where the crying continues, but when Gail almost crashes the car, Dawn stops crying, making the two believe she is an adrenaline-fueled baby.
As La Abuela tells a story to Hector and Panchito, Phil and Carol eventually make up when he decides to help her clean the floor, Erica and Gail hang up a stuffed bear on a wall for Dawn, Todd and Melissa reunite when Todd realizes that Melissa was only looking out for him, and Jasper breaks the piñata to reveal candy. In the end, La Abuela holds the two at gunpoint, but before she can shoot him, Panchito shoots La Abuela and he reveals that he was the snake. When he asks Hector where the bomb was placed, he does not say the exact answer, where Hector is arrested, as Phil continues to work on his Rubix cube.

Community content is available under
CC-BY-SA
unless otherwise noted.