Mooovin' In
Phil tries to get the attention back to him, when Todd begins to receive it all.

Season: 01 Episode: 08
Total Episode Count: 08
Prod. no.: 1AYB08
First Aired: March 29, 2015

Featuring: Phil Miller, Carol Pilbasian, Melissa Chartres, Todd Rodriguez
Director: Claire Scanlon

Writers
:
Liz Cackowski
Plot
:
Phil becomes angry over the fact that he is losing the spotlight of attention to Todd. He attempts to think of a way to get it back to him, and gets his wish when he finds a cow in the middle of the street. Phil invites the group over to see the cow, but loses his attention yet again, when Todd explains his knowledge of getting dairy. In another attempt to get the attention back to him, Phil fakes stealing the cow. With the cow missing, the group decides to start a search. Melissa suspects that Phil secretly took the cow, especially to the bar. Her hypothesis is correct, however, the cow ends up missing for real. Phil soon gets worried with the cow missing, but Todd eventually finds it. Todd allows Phil to take credit for finding the cow.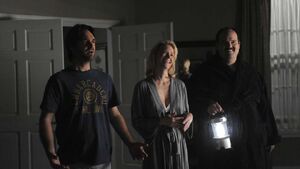 Later that night, the members of the group hear the screams of Carol, leading them to go to her house, and find the cow upstairs in her bedroom. As Phil finds it hilarious, Carol gets the last laugh as she forces him to let her move in. As the two are in bed, Carol explains a fake story of how she found the cow in her room to Phil, as it is shown she purposely brought the cow upstairs.

Community content is available under
CC-BY-SA
unless otherwise noted.