Release the Hounds
Todd sinks into a deep depression.

Season: 04 Episode: 13
Total Episode Count: 62
Prod. no.: 4AYB13
First Aired: April 1, 2018

Featuring: Todd Rodriguez, Tandy Miller, Carol Pilbasian
Also Appearing: Melissa Chartres, Erica Dundee, Gail Klosterman, Bezequille & Mike Miller, Dawn
Director: Steve Day

Writers
:
Megan Ganz
Plot
: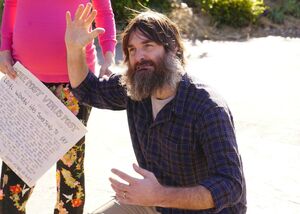 After Erica declines Todd's request to father his child, Todd falls into a deep depression. Meanwhile, Tandy and Carol can't keep their hands off each other and ask Gail for medical advice about having sex, due to Carol's recent birth, to which she gives an okay. Melissa attempts to cheer Todd up with a variety of things and he gains an interest in a model train set.
Over the course of six to seven months, Todd's depression remains neutral as he works on a larger extended train line, Gail has stayed away from red wine, and Carol is far into her second pregnancy, which she has kept secret from Todd. When Tandy and Carol decides to tell the truth, Todd destroys his entire train setup and comes out of his depressed state by cutting his long hair and apologizing to the group. Inspired by a picture of her family including her brother, Ethan, Erica decides herself that she wants another child, so that Dawn can have a sibling. As Todd starts to read a prepared speech to announce the end of his train obsession, Erica declares that she wants to have a child with Todd. Elsewhere, someone discovers one of Tandy's dirty diaper balloons in the desert.

Community content is available under
CC-BY-SA
unless otherwise noted.