Secret Santa
Carol attempts to spread some festive cheer with a "Secret Santa" gift exchange.

Season: 02 Episode: 09
Total Episode Count: 22
Prod. no.: 2AYB09
First Aired: December 6, 2015

Guest Starring: Alanna Vicente, Jason Sudeikis, Boris Kodjoe
Featuring: Carol Pilbasian, Mike Miller
Also Appearing: Tandy Miller, Phil Miller, Melissa Chartres, Todd Rodriguez, Erica Dundee, Gail Klosterman
Musical Numbers: Oh, Tandybaum, This Little Light of Mine, Deck the Halls

Director: Nick Jasenovec

Writers
:
Kira Kalush
Plot
: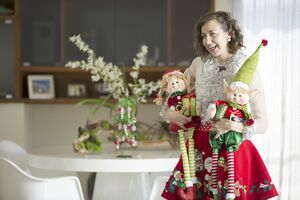 As the Christmas season is approaching, Carol has gone overboard with decorating the Malibu house. Along with the decorations, Carol proposes a "Secret Santa" gift exchange. After drawing names, Tandy convinces Erica to let Phil move back into the mansion, which she hesitantly accepts. In order for Phil to patch things up with Erica, Phil and Phil switch names with Phil receiving Erica's and Phil receiving his own. Meanwhile, Carol finds out that Melissa and Todd broke up and feels sympathy for Melissa, as Todd and Gail continue to hide their fling from the rest of the group. As nighttime approaches, Phil gives a speech and thanks God for being welcomed back into the house, as the group sings "This Little Light of Mine".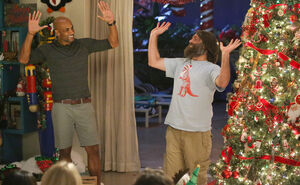 Tandy attempts to help Phil win Erica back by having him give her a Hope diamond. He soon rejects, but later accepts. The following day, the group exchanges their Secret Santa gifts. Carol and Gail receive their gifts, which they enjoy. Tandy buys a yacht for himself, which he detonates, much to the dismay of the others. Melissa receives her gift from Carol, which she laughs at as it is crafty. Todd receives a heartwarming gift from Melissa, Phil receives nothing but a whicker ball from Gail, and Phil gives Erica a hospital bed with a sonogram, much to Erica's and everyone's happiness.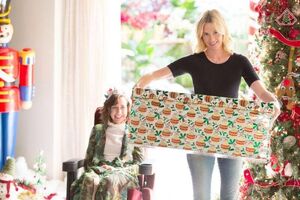 Tandy is annoyed that Phil didn't give Erica the necklace, but finds forgiveness when Phil invites him to have a drink with him. Later that night, Melissa comes out wearing the boots Carol had made her, and admits that she has had a change of heart, due to the Christmas season. As she admits that she shouldn't have broken up with Todd, she gets on one knee, and proposes to him. Before Todd can answer, Phil falls on the floor in a deep pain, as the group attempts to help him.
Meanwhile, Mike begins to suffer in space, as he has been there for over three years. Mike later finds out that Terry, his last worm, has died, and sends the deceased worm off into space. As he no longer has anybody, Mike plans to release himself into space. As Mike, looks back into the station, he seesa recently newborn worm. Attempting to abort the air lock, Mike finds the abort a failure, resulting in him being launched into space.