She Drives Me Crazy
Phil is droven to dispair over the relationship between Todd and Melissa.

Season: 01 Episode: 07
Total Episode Count: 07
Prod. no.: 1AYB07
First Aired: March 29, 2015

Featuring: Phil Miller, Todd Rodriguez
Also Appearing: Carol Pilbasian, Melissa Chartres
Musical Numbers: All Night Long

Director: Peter Atencio

Writers
:
David Noel
Plot
: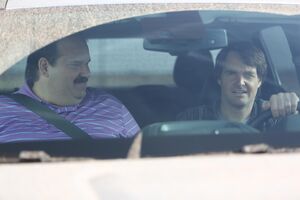 Phil becomes cranky as he is sleep deprived because of the repetition of Melissa and Todd's sex song, "She Drives Me Crazy". Phil's knowledge of Todd and Melissa's relationship soon drive him to manic despair. It soon drives Phil to the point where he can no longer take Todd and giving him the idea to take him "for a ride" to the desert.
Driving three hours into the desert, Phil fakes his car breaking down. But when Todd steps out to see what happened, Phil drives off, but knows what he is doing is wrong, and lets Todd get back into his truck. After enjoying the landscape, the two return home.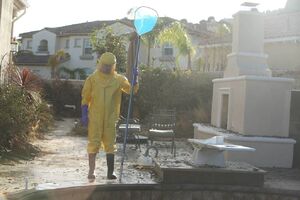 Meanwhile, Phil sets up a Grievance Board to solve his Todd / Melissa problem. It soon backfires when everybody agrees that Phil should clean his toilet pool. He first attempts to work on it, but barely gets any progress made. After returning home from the desert, Phil stays up all night to finish cleaning it. Carol removes her dryer sheets from her nose and admits she is proud of him. He comes up with a solution to his toilet problem by placing a Porta-Potti inside his home.

Community content is available under
CC-BY-SA
unless otherwise noted.