The Big Day
Carol finds herself in the middle of a feud between Phil and Gail over who gets to deliver her and Phil's baby.

Season: 03 Episode: 16
Total Episode Count: 47
Prod. no.: 3AYB15
First Aired: April 30, 2017

Guest Starring: Keith L. Williams
Featuring: Phil Miller, Carol Pilbasian, Gail Klosterman
Also Appearing: Melissa Chartres, Todd Rodriguez, Erica Dundee, Jasper
Musical Numbers: She Drives Me Crazy, Runnin' Shoes

Director: Nisha Ganatra

Writers
:
Erica Rivinoja
Plot
: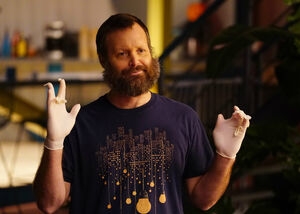 Almost six months after the holiday celebration, a heavily pregnant Erica and Gail share a kiss, Phil thanks a now-speaking Jasper for painting his go-kart pink, and an also heavily pregnant Carol discovers that Phil's eyebrows have not grown back yet as everyone prepares for "the big day". The "big day" turns out to be a wedding for Todd and Melissa, who has now recovered from her mental state. Meanwhile, Gail asks Carol if she has yet to tell Phil that she wants Gail to deliver their baby. While toasting, Phil wishes his parents were alive for them to see him now getting ready to deliver his baby.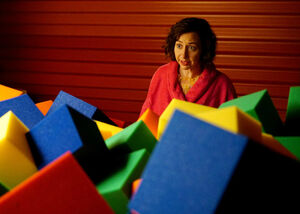 As Melissa wants to go and have sex with her new husband, Gail forces Carol to tell Phil and she soon does. He confronts Gail and they get into a feud about whether who should deliver the baby. Meanwhile, Todd and Melissa prepare to have sex in their room, but are interrupted by Phil, who wants to prove otherwise that he is fine in delivering the baby by demonstrating and trying to pass off the claims made by Gail in their feud. While Phil thinks he did good in his demonstrations, Gail reveals Carol is scared to tell the truth that he does not want her to deliver their baby.
Carol finds Phil in a room of foam blocks and reveals that he felt helpless as when Phil (II) was on his deathbed and doesn't want to feel the same way again when the time comes. Carol advises him he will have the most important thing to do: to hold her hand. He goes to Gail to apologize and she offers to him to be Todd's assistant in the birth. Meanwhile, Erica's water breaks right in the middle of them patching things up.

Community content is available under
CC-BY-SA
unless otherwise noted.