The Tandyman Can
Tandy and the new Phil begin to have increasing tension.

Season: 01 Episode: 12
Total Episode Count: 12
Prod. no.: 1AYB12
First Aired: April 26, 2015

Guest Starring: Boris Kodjoe, Mary Steenburgen
Featuring: Tandy Miller, Phil Miller
Also Appearing: Carol Pilbasian, Melissa Chartres, Todd Rodriguez, Erica Dundee, Gail Klosterman
Director: Claire Scanlon

Writers
:
Matt Marshall
Plot
: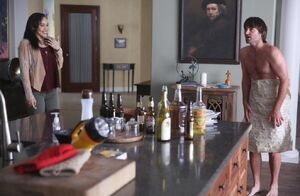 Tandy wakes up to find that there is a new fence around the cow built by Phil. Tandy also finds he has fixed Carol's generator as well. Carol offers to have Phil move in with her, but Tandy persuades him to move in with himself. Phil continues to make improvements to things around the cul-de-sac, which angers Tandy even more. At night, Phil is "re-elected" as the new "President of the United States", after some increasing tension.
Tandy attempts to brag that he has made great contributions to Tucson as well. He soon comes up with the idea that he has built a farm. Heading to the field in the middle of the night, Tandy successfully manages to plant, plow, rake, and finish his farm before morning. The following morning, Tandy and Phil head to the farm. Phil admits that the farm is great and is proud of it. Phil apologizes for what had happened the past few days and patch things up.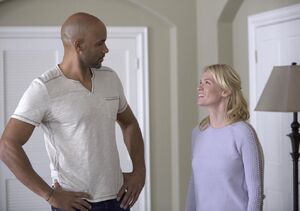 Meanwhile, with the arrival of the new Phil Miller, Carol, Erica, and Gail attempt to win him over, as such laughing at his jokes, and flirting. Todd soons believes that Melissa is trying to as well, since she had rode with Phil on his garbage truck, and believes that she is about to break up with him. Todd instead breaks up with her, only for her to tell him that she wasn't going to in the first place.
Later that night, members of the cul-de-sac hear the sexual intercourse between Phil and Carol. Erica and Gail discuss how Carol is lucky to have him and as Tandy and Todd sit on the couch outside, they decide that they have to kill Phil..

Community content is available under
CC-BY-SA
unless otherwise noted.