You're All Going to Diet
Phil and Melissa set up some unique protection systems in fear of a threat by Pat.

Season: 03 Episode: 03
Total Episode Count: 34
Prod. no.: 3AYB03
First Aired: October 16, 2016

Guest Starring: Kenneth Choi
Featuring: Phil Miller, Lewis Ha, Melissa Chartres
Also Appearing: Carol Pilbasian, Todd Rodriguez, Erica Dundee, Gail Klosterman
Director: Jason Woliner

Writers
:
Tim McAuliffe
Plot
: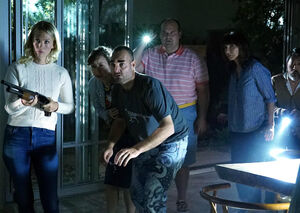 Phil discovers that Pat's body is gone and discovers a trail of blood leading to the beach. Phil pleads that Pat was a fearful person and most likely won't come back and that the group was overthinking the worst. With the little possibility that Pat may come back, Phil sets up a makeshift alarm system with Big Mouth Billy Bass singing fishes on the wall. Meanwhile, Melissa sets up a sniper's nest to be able to shoot any intruders. Carol also decides to decorate the house the best way she can to cover up the damage's made by Pat and Phil.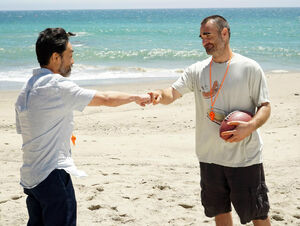 Phil also decides to show the group some self-defense methods and uses Lewis to demonstrate, but he accidentally tazes Lewis, who is starting to agree with Phil. Later that night, the singing fishes go off, but it turns out to be Erica. In order to tell who is a survivor and who is a threat, Carol has everyone wear whistles and tap shoes. Phil also adds another contribution with tazing stations, as Melissa sets up stations with axes to both injure any intruders.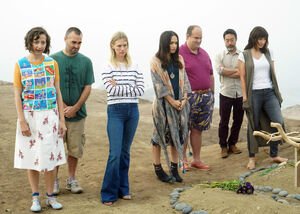 At the beach the next day, Phil tries to make amends with Lewis with a Lion and the Mouse narration. They make up but while playing a little game on football, the football sets off a landmine, one of many set up by Melissa. Despite Lewis explaining that they have the whole world to reside in, Phil explains the memories of what they achieved and experienced in Malibu, but during the night a wave sets off the landmines causing the car alarms to go off. Melissa's ammo firing also doesn't help either along with the multiple singing fish. Everyone has had enough and Lewis convinces Phil to leave with them in the morning. While Carol looks back at drawn memories, Todd and Gail pack up their items. After a goodbye to the ones who passed away in Malibu, everyone heads to their vehicles and drives away in the other direction of Malibu.

Community content is available under
CC-BY-SA
unless otherwise noted.